We're back!
We are now open for under 18's. 18's and over can return from Monday 17th May.
It's not long now until we can start classes again. If you're already registered with NAPA you'll automatically be added into the same classes for the next term.
In the meantime, it would help us if you'd check your account – to make sure your balance looks right.
To check your balance please log into your account at www.napaclasses.co.uk and look for the current account balance as shown in the example below: (if you've forgotten your password, click here: https://napa.coordinate.cloud/account/reset)

A figure with a minus – ie -£33 is what you owe NAPA for classes already taken.  A figure without a minus means you're in credit due to cancelled classes that you'd paid for. All credits will be carried forward and used when we're booking you in for the next term.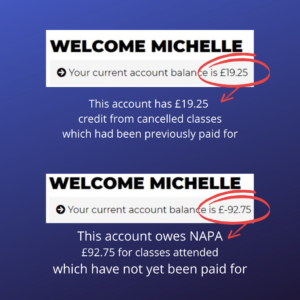 Please ignore all other figures apart from the account balance as shown above.
The seven weeks you've been charged for are the seven weeks we were open from 7th Sept 2020 (or the part that you attended). There will also be any private lessons, exams and Zoom classes you've attended on your account.
If you'd like anything explaining or think there is an error on your account, please email us napa@northernacademy.org.uk and we'll look into it for you and send you a breakdown. Rest assured we've checked every account individually and they should all be correct.
Our next step is to add you into the classes you were doing last term – for classes from w/c 12th April. Work to add the new term to your account will start on Monday 22nd March and your balance will change to reflect this.
You don't need to do anything – we'll make sure you're booked into the classes you were doing before we had to close. The summer term is 14 weeks long and takes us right up to July.
Thanks for your patience – and we can't wait to welcome you back to NAPA. We'll be back in touch nearer the 12th April with more information on your return to classes.
#TeamNAPA