Wilberforce College and NAPA working together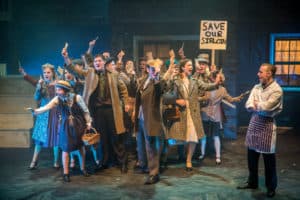 PERFORMING AND PRODUCTION ARTS
UAL LEVEL 3 EXTENDED DIPLOMA
WHY SHOULD I STUDY THIS COURSE?
Based on campus at NAPA and at Wilberforce college, you will be taught by NAPA specialists who have a passion and a drive to ensure students have the best possible chance of accessing the industry they care so much about.
NAPA's school has been established for over 15 years and has a strong reputation in high-quality performance and production values.
If you want to develop your performance skills in an industry-based environment, then this course is for you. This course is designed to offer practical based teaching to develop the skills and training you need to take your performance training to the next level.
It's a competitive industry and this course provides you with practical high-level industry experience, taught by staff who have worked in the business and have a long history in guiding students onto pathways within the performance industries. You can see examples of some of NAPA's alumni on our website.
If you want to immerse yourself into the world of rehearsals in a professional environment and develop your skills across all 3 performance disciplines this is the course for you. This course also offers excellent opportunities to explore production-based roles such as design, direction, stage management and all production roles. This will result in an all-round experience and knowledge of the industry placing you in a strong position for further training in your chosen pathway.
This qualification covers an extensive range of units which allows those with an interest in the Performing Arts to explore, develop and test their creativity. Unlike a traditional BTEC course int his field, UAL [University of Arts London] gives specialists the freedom to deliver a practical training throughout the duration of the course guiding its students towards industry standards and expectations.
The unique delivery style of this course will be structured so that Unit content is covered within projects set throughout the year, giving the students the opportunity to develop and focus their skills sets across time.
The projects throughout the duration of the course will give opportunities for students to nurture a variety of skill sets which are all vital for the industry. The following are examples of some skills this project based learning course offers its students:
Strong training in all areas of Performing – an opportunity to focus your practice on your individual strengths and weakness
Understanding the industry as a whole – opportunities to explore a variety of creative roles including production
Audition skills and developing material
Self-marketing – self presentation in line with industry expectations
Presentations, pitches within the industry and public speaking
Support and guidance in applications for further training
High standard performance and production opportunities
Knowledge of professional practice standards and the expectations of the professional world of performance and production.
This course is designed to allow professional development which supports your own learning and journey towards achievement of personal ambitions.
UAL (University of the Arts, London) have a strong reputation for a variety of courses within the creative sectors.
"We work with tutors, students and creative industry professionals to create outstanding qualifications – helping students progress to higher education or employment. Our qualifications are designed with education and industry partners, so they provide students with the latest knowledge and skills."
HOW IS THE COURSE ASSESSED?
Unit skills will be internally assessed throughout the course and specific projects and verified through portfolios of evidence and practical workshops, rehearsals and performances. These are also subject to external quality assurance.
WHAT WILL THE COURSE PREPARE ME FOR?
Further training on degree level courses at specialist schools in all performance disciplines and production roles and employment within the Performing Arts and creative industries.
WHAT MATERIALS WILL I NEED TO PROVIDE?
You will be informed of any specific clothing and footwear requirements in the first few lessons.
Based on campus at NAPA in Hull City Centre and at Wilberforce College, students will benefit from outstanding professional, practical and academic teaching all led by the NAPA staff. This will result in the students gaining high-level industry experience in all three performance disciplines and production.
The students will also benefit from the advantage of being taught at NAPA and having access to all the specialist staff and facilities it houses including their fully equipped rehearsal studios, studio theatre, wardrobe department, props and furniture department.
THIS COURSE IS FOR YOU IF….
You have a passion for Performing Arts and would like to develop your performance skills in all 3 disciplines and explore a variety of production roles. This course provides an all-round practical training that will provide you with the skills you will need to get into the performance and creative industries.
CLICK HERE TO APPLY